HONDA INTEGRA TYPE-R (MODIFIED) 1/24 scale

INFO: I had a great time building this Fujimi kit. The overall kit is reasonably detailed and the look is accurate, but I felt that more could be done to further enhance the car, so I decided to customize this car.
MODIFICATIONS: -Carbon fiber hood design.
-Complete Custom Interior (including seat belt pads)
-Exhaust system.
-Sponsorship Decals
- Front grill removed
THE CAR
This Integra is a pretty easy kit to build, in total I probably spent around 3-4 days to finish this kit. The interior was done first, then came the chassis. I left the body for last. I didn't prime this model or painted it white, I simply cleaned upped the original plastic and sprayed two coats of clear over the plastic, I think it turned out pretty well. You must be careful when applying clear over the carbon fiber decals because the clear melted parts of the decals. After the clear was laid on, I simply placed the tuning decals on the model and the kit was finished.
From this view, you could see the custom interior and the seat belt padding I added.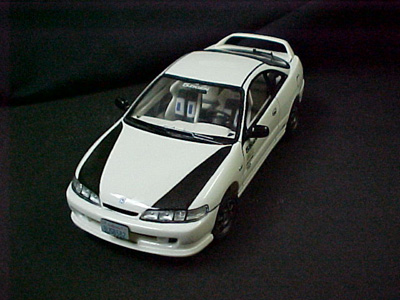 Note the gunmetal wheels and the tuning decals.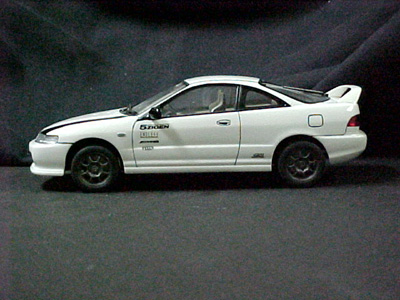 This is a good shot of the carbon fiber hood.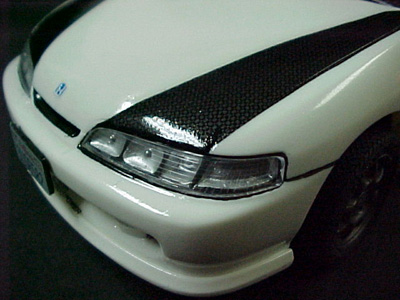 You can see from this shot that the grill was removed.
Backend shot of the Integra.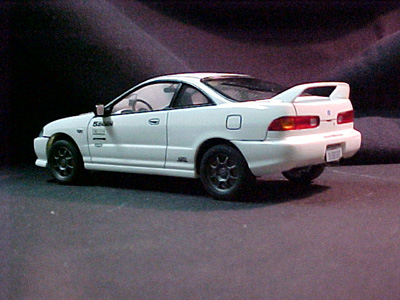 Custom made exhaust could be seen in this shot. The exhaust tip was made from a straw!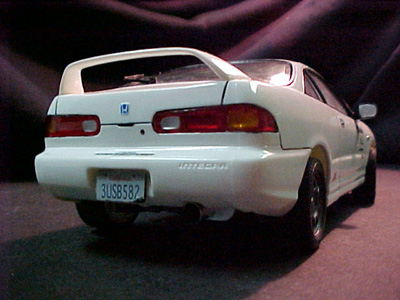 Overhead shot.