FERRARI TESTAROSSA 1/24 SCALE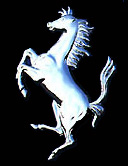 INFO: This kit is good kit considering it's relatively cheap price. The fits of the parts are average but it does come with an engine.
MODIFICATIONS: NONE
THE CAR:
This is another one of my first kits, you can tell once again by the screwed upped headlights.